OUR PORTABLE ROCK TRUCK SCALES ARE BUILT AND DESIGNED TO ACCOMMODATE EVEN THE LARGEST ARTICULATING TRUCKS.  THEY ARE MANUFACTURED WITH VERY HEAVY MAIN BEAM STEEL SO THEY CAN PERFORM WITH THE HIGHEST DEGREE OF ACCURACY EVEN UNDER THE HARSHEST CONDITIONS.  HAVING A FEW DIFFERENT PORTABLE DESIGNS TO CHOOSE FROM WE CAN SUPPLY A SCALE TAILORED TO EXACT REQUIREMENTS.  MANUFACTURED BY ACCURATE SCALE AND MADE IN CANADA.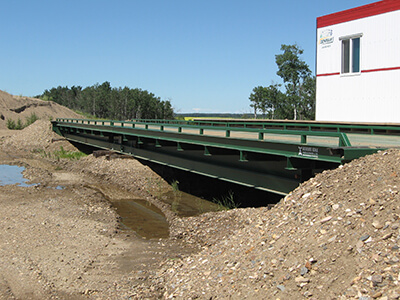 Our portable truck scales are completely self-contained, have minimal foundation requirements and feature a low-profile design, making them easy to set up or move to wherever you need a portable vehicle weighing solution. There is no pit required, just a concrete or wood timbers base. All of our scales are legal for trade and are built with high quality steel. They are designed for long-lasting durability and superior performance. The scales feature easy access to the load cells, which makes future service calls quick and efficient. Our scales also come with man way access hatches for easy cleaning and come in custom lengths and widths. We also stock accessories such as portable scale shacks, programmable weigh indicators, traffic light control systems, and software. Manufactured by Accurate Scale and made in Canada.
PORTABLE ROCK TRUCK SCALES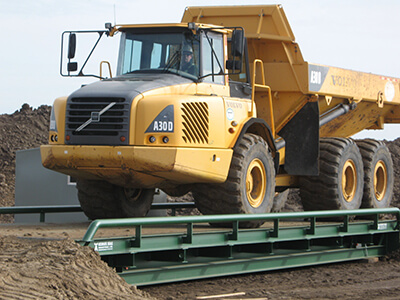 Our portable rock truck scales are built and designed to accommodate even the largest articulating trucks. They are manufactured with very heavy main beam steel so they can perform with the highest degree of accuracy even under the harshest conditions. Having a few different portable designs to choose from we can supply a scale tailored to exact requirements. Manufactured by Accurate Scale and made in Canada.
Self-Contained, High-Capacity Portable Wheel Load Scales
PT300™ scales set the industry standard for portable, self-contained, compact wheel load scales, and have done so for decades.
They are most commonly used to maximize legal payloads with concern for violations and reduction of maintenance resulting from an overload of stress on equipment. These all aluminium, fully electronic scales are able to weigh up to 40,000 lbs (18,000 kg) with an accuracy of ± 1%.
Progressive developments in weighing technology have unlocked the key to improving on this tried and tested industry norm. Finally, battery life has been thoroughly improved through the use of solar panels that will power the scales for almost a full year before requiring direct power charging with daytime outdoor use.
Today, PT300™ scales are built with fully integrated RFX™ Wireless Weighing Technology providing the ability for scale data to be received, recorded, and observed on a variety of indicators; as well as control scale functions remotely.
Rugged, Lightweight Aluminum Construction
Built to Withstand Heavy Use; Ideal for Unimproved Surfaces
Available in Capacities to 40,000lbs (20,000kgs)
Integrated Indicator with Comprehensive Push Button Controls Include: On/Off, Local/Total, Zero & Print/Accum
RFX™ Wireless Weighing
Technology Provides Cable-Free Communication with a Variety of Indicators, Apps & Software
Solar Boost Provides up to One Year of Battery Life with Daytime, Outdoor Use
Large LCD Display with Backlight for Easy Readings from Scales
AX-3040 PORTABLE AXLE SCALE
The AX-3040 axle scale is easily portable and available in multiple lengths, comprised of either aluminum or steel, the AX-3040 axle scale is totally customizable to your needs. The indicator connects to the weigh pad up to fifty feet away for position flexibility.
Standard Features
System includes two platforms with anchor brackets and four on/off ramps with anchor tabs (anchor bolts not included)
Sizes: 7, 12 and 14 ft. lengths
Construction: Steel or aluminium
Axle capacity – tandem platforms – 60,000 or 80,000 lbs. (30,000 lbs. or 40,000 lbs. each)
Includes (4) 5/8-11 NC eye bolts
JB4SS TuffSeal® signal trim junction box
Treaded top plate with four lifting eyes
10 ft EL146HE Interconnect cable with MS-type connectors to go between weigh pads
Contains two load cells per platform
50 ft EL147HE cable to connect weigh pad to indicator
Non-Legal for Trade
Specifications
Ramps: (W x L): 32 x 25.25 in Steel or aluminum
Construction: Steel or Aluminum
Accuracy: ±3%
End Loading Capacity: 100% full scale at 30,000 lb and 75% full scale at 40,000 lb.
Warranty: One-year limited warranty
GEC MD 400/500 Portable Wheel Weigh Scales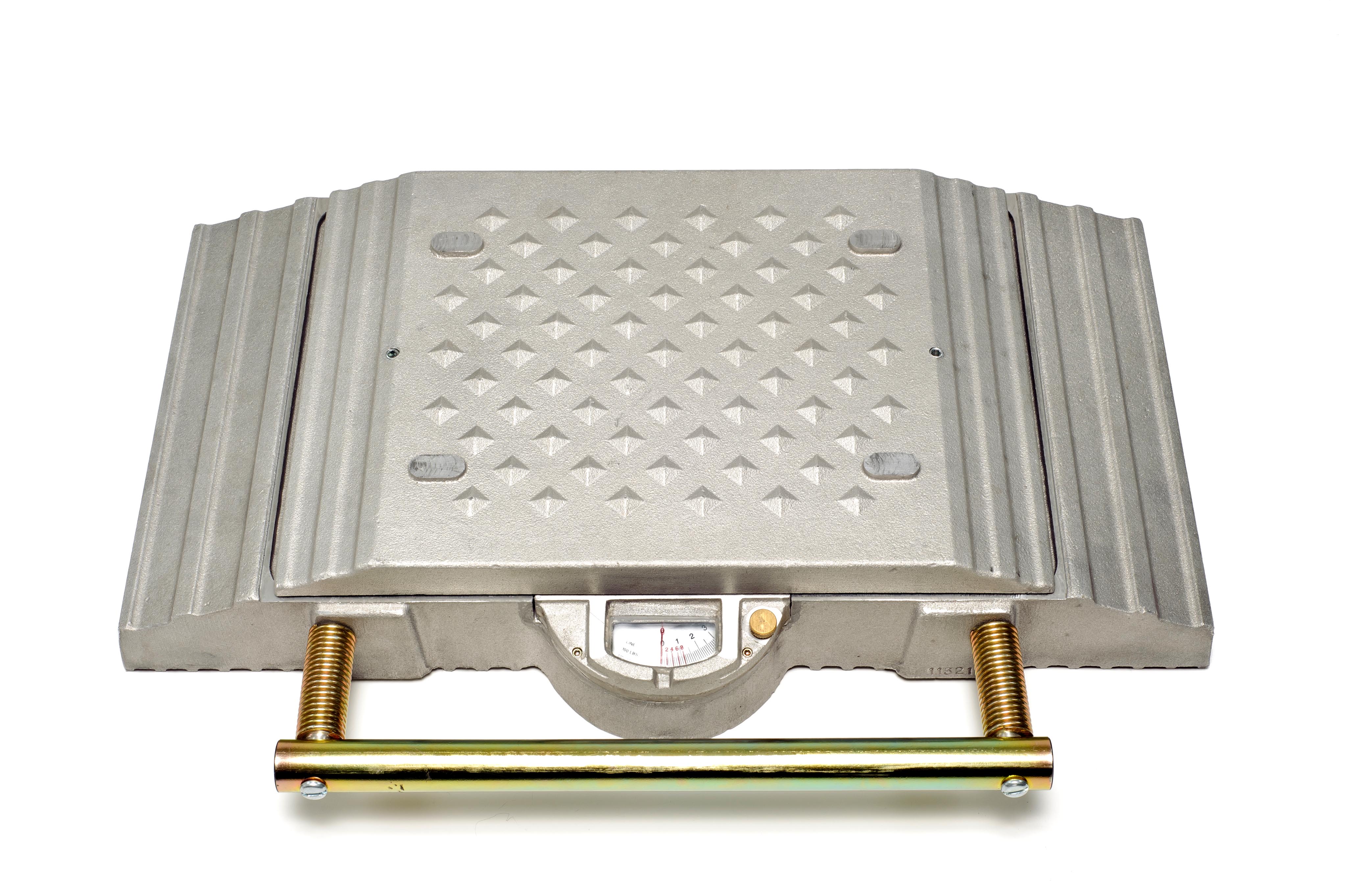 The GEC MD400/500 is a heavy-duty truck axle scale that is perfectly suited for any portable vehicle weighing application. The lightweight unit is surprisingly easy to pick-up and move. It is accurate, portable and dependable.
This is the reputation the MD400 & MD500 scales have earned over 45 years of highly demanding use in commercial truck weighing, cargo and heavy equipment weighing, law enforcement, military deployment and industrial applications.
20,000 Pounds Capacity
Lightweight
Sully Self-Contained
Rugged, Simple and Reliable
Lightweight: Weighing in at just 43 pounds, the overall construction of the MD400 and MD500 is made of high-strength aluminium which provides rugged yet remarkably lightweight capability.
Versatility: The MD400 and MD500 Portable Wheel-Load Weighing scale is a mechanically operated Static Scale, specifically designed to measure the weight of a wheel resting anywhere on the weighing surface.
Ease of Use: These scales are carefully calibrated at the factory so that no field adjustments are necessary. The low angle ramp slope of 20 degrees and nonskid bottom provide climbing ease and greater stability thereby increasing safety to the operator.
All critical mechanisms are contained in a durable, dust-proof enclosure, that can withstand extreme climate conditions.
For nearly 54 years, GEC has led the industry in the design, manufacture and marketing of truck weighing equipment. Moreover, GEC continues to improve equipment so that it is more efficient and less costly. The MD400 and MD500 portable scales are designed and built for simplicity, ruggedness, and reliability, even in extreme conditions.