ACCURATE SCALES IS BUILDING SMART SOLUTIONS THAT GIVE OUR AGRICULTURAL CUSTOMERS MORE CONTROL OVER THEIR PROCESS
LIVESTOCK SCALES FOR ANY OPERATION
In recent years, the farm communities of Alberta have seen a lot of change. The next generation is running the farm and facing the challenge of adopting new tools and techniques while trying to remain profitable.
The focus now is on maximization; lowering costs and increasing profits through better technology. What we've had to accomplish at Accurate Scales is building smart solutions that give our agricultural customers more control over their process. Portable weighing systems, analytical software packages, heavy duty scales; these are innovations designed to improve the production process while saving money.
Story One: SHRINKING LOSS
Managing shrink loss for livestock is a critical component of your bottom line, regardless of the animals you bring to market. Travel will impact your animal weight and you'll receive considerably less, particularly with large numbers being moved.
By bringing the scale to the animal, rather than ship them and weigh them, you can dramatically reduce shrinkage and increase profits. Our legal for trade portable scales are excellent solutions to ensure you receive top value for your livestock.
See how quickly you can make your money back with Rice Lake's online shrinkage calculator
Story Two: GETTING SMARTER WITH DATA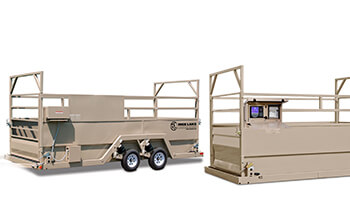 How did results compare with last year? Which field has the best yield? These are some of the questions every farmer needs to know and we've simplified the process through our harvest management systems.
Multiple results from multiple fields and multiple trucks, tracking harvest data can now be completely automated. Pull into the scale and gather data based on the vehicle, weight, field, date and create reports.
These are complete systems from the scale to the software, designed to quickly and accurately provide measurements for your commodities.

DOLLARS AND CENTS
Agriculture can be a volatile trade, one that can change as easily as the weather. New technology and equipment are an investment, an expense that has to be justified. These are tools that agricultural providers need to use; measuring yields and livestock is an unavoidable part of everyday life. The challenge is ensuring a return on investment.
We've worked with farms across Alberta to better understand this trade off between technology and cost; researching and developing better products that fit into budgets. Portable equipment to reduce shrinkage on your livestock, software that can help with forecasting, and construction designed to last for years and years are all ways we're giving ROI to our customers.

A COMMITTED RELATIONSHIP
When you buy a scale system, you're really buying the freedom and flexibility to manage your own commodities. There's also an expectation of service and support for these systems that's on par with how important they are to your operation.
We see our industry as more than just a tool you buy off the shelf; it's really a relationship that understands and creates meaningful improvements to your business. Accurate Scales provides a personal, dedicated approach that gives our customers confidence that they'll have support when they need it.
To help with the maintenance of your equipment, Accurate Scales has a complete service shop in Edmonton and mobile technicians